Belton's New Traffic Patterns
SUSAN JANE BELTON has been painting her way through the plague year of 2020–21, and we can be grateful. Having started forty-odd years ago observing the oddities on suburban streets around Boston, she's turned to the neighborhood of her downtown studio. It's at the edge of the South End, where intensive commercial development had been going on until Covid-19 caused work to be suspended. Contractors, Public Works, the Fire Department, and police have been diverting traffic and leaving equipment intended for our safety on the streets in various states of abandonment, or perhaps just suspended animation. They appealed to Belton's wry sensibility.


Pretty much everything is on alert in these paintings, ready to serve. Standpipes look eager, their stumpy nozzles thrust out to you like welcoming arms. (Double Barreled, 2019) Hydrants are vigilant, bolted to the concrete and holding back high-pressure water you might someday need, themselves protected from damage by bollards and stanchions.


One hydrant is flanked by a pair of tall steel posts— soldiers at attention wearing orange cones for hats—and, closer in, by an odd couple of bigger striped cones, like bodyguards with some mafia capo, one of them wearing a jaunty scarf of yellow plastic CAUTION tape. (Guardians, 2019) I'd have walked right by this ensemble without noticing, but not Belton. She sees humor in the way that a street photographer might, but she also has the skill and confidence as a painter to put across the saturated colors and abrupt play of slanting light and shade.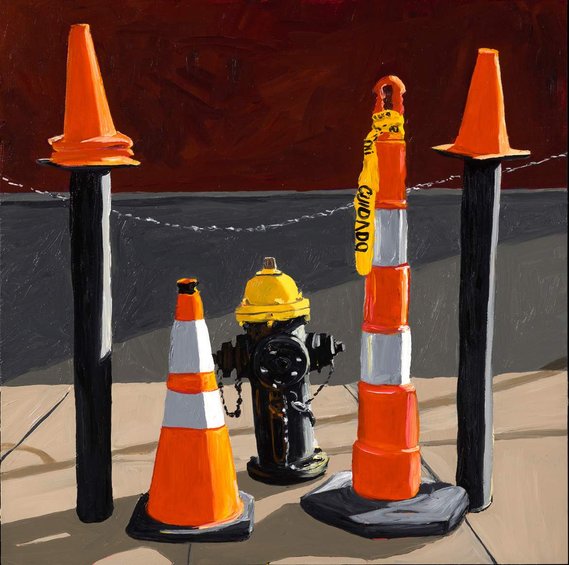 Other hydrants are performing heavy tasks, standing firm on the ancient, uneven brick sidewalk and supplying water for some unseen temporary purpose through a complex of colorful valves and joints, all the while supporting a leaning pile of assorted wood and metal apparatus. (Multi-tasking, 2019)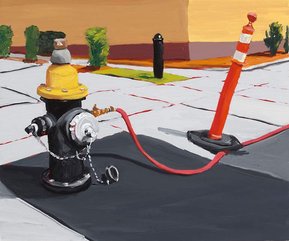 Or they have easier jobs: one hydrant is sending water through a red hose (am I crazy to think, donating blood?) while a solicitous orange pole leans over and steps on the hose lest we trip. (Step on a Line, 2019)


Plastic cones and poles abound in Belton's pictures, but they have periods of unemployment. Ten of them stand around on a street corner, their uncertain status as temps accentuated by their unsteady postures and by contrast with the permanent workforce, the massive black cast-iron streetlights and receptacles behind them. (Huddle Up, 2020)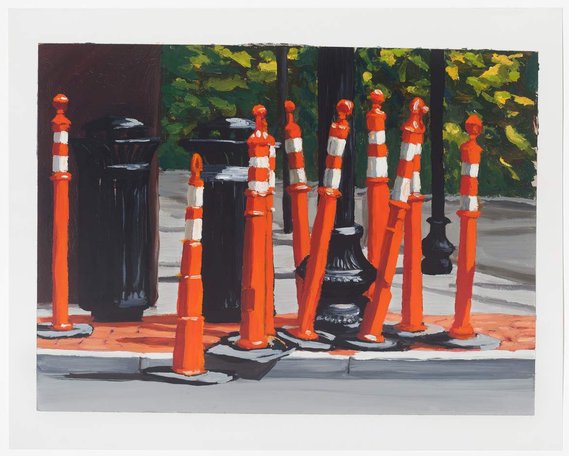 Looking at a photograph of another picture while it was still on the easel makes the point: over a pencil under-drawing she has blocked in dark areas for the main shadows. She's brushed in a hot cadmium red layer that then serves to warm up the yellow she puts on top.


The red is mostly concealed in the finished painting, but she lets it peek through at the edges when she wants to enliven dark shadow. There is a painting lesson or two in each of these pictures. (photo of painting in progress left; Monocle, 2021 right.)


Belton says, "These paintings are about painting. That is really all I was doing in the studio. I was questioning what juicy paint could do to isolate the object, to define its lights and darks. What happens if I give it more or less space, push the color, caress the edges. Finding humor and hope in painting is a terrific optimistic surprise." Humor and hope: Belton combines those with optimism just when we most need them in our lives.


John Walsh is an art historian who was Director of the J. Paul Getty Museum from 1983 until 2000. He graduated from Yale with a degree in English, studied in the Netherlands, and took a PhD in art history at Columbia. He served as a paintings curator at the Metropolitan Museum of Art and the Museum of Fine Arts, Boston, and taught art history at Columbia and Harvard. His specialty is painting in the Netherlands, but he has a long interest in contemporary art, having been curator of shows for (among others) Ed Ruscha, Leon Kossoff, and Bill Viola. For the past dozen years he has taught part-time at Yale and given public lectures at the Yale University Art Gallery and the Hammer Museum (all available on YouTube). He and his wife Jill live in Los Angeles.